270)576-0326 OR 565-1059
Please feel free to print out our order sheets and contact us with questions! We are able to ship nationally and would be happy to assist with your holiday orders!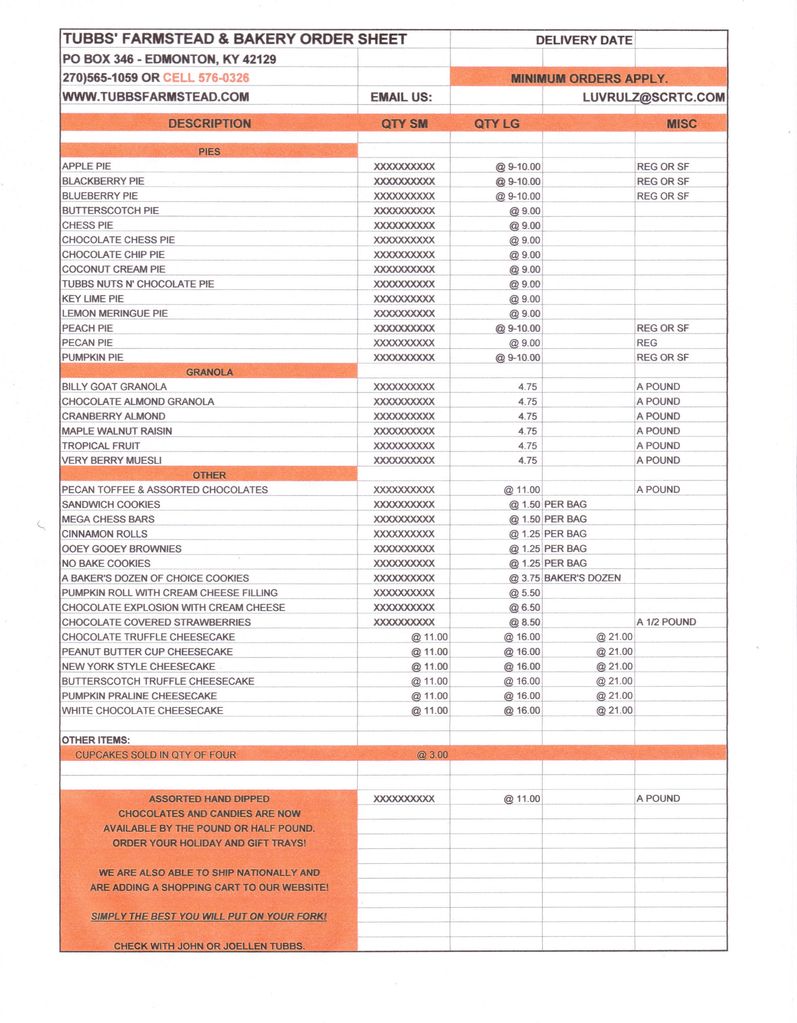 More details on our stuff.....
Our Granola is $4.75 per pound and descriptions include:
BILLY GOAT – A combination of everything you can imagine; cashews, walnuts, pecans, sunflower seeds, pumpkin seeds, dried cranberries & raisins. This is a handy snack granola! Everything but the kitchen sink!

CHOCOLATE ALMOND – Yum! We mix the nuts, the oats and the dark Ghiradelli chocolate. Snack on this or combine it with some vanilla yogurt!

CRANBERRY ALMOND – For this original recipe, we combined dried cranberries, oats, coconut, sunflower seeds and other sundry items. You can put this in your yogurt or eat it like cereal!

MAPLE WALNUT RAISIN – One of the first we came up with! Also has coconut and sunflower seeds, but we use real maple syrup in place of the honey! You will love it!

VERY BERRY MUESLI – A delicious hot cereal that turned out to be my mom's favorite! It has cherries, blueberries and cranberries. All sorts of nuts and bran; enjoy!

TROPICAL – We chop mango slices, payaya chunks and pineapple to add to some pumpkin seeds and a little brown sugar. This has Kentucky pecans and is a wonderful snack also!
CUPCAKES
$3.00 FOR A BOX OF 4
We have many flavors and fillings we'd be happy to combine and too many to list! We bake one or two favorites weekly, depending on the season; and if there was something you'd like – just ask! We are happy to accommodate your taste buds!


CHOCOLATES AND CANDIES
Chocolates and candies are available by the half pound or the pound.
$6.00 per half pound or $11.00 per pound.
Selections include:
PECAN TOFFEE MOCHA CREAMS CHOCOLATE COVERED CARAMELS
VANILLA CREAMS CHOCOLATE CREAMS COCONUT CREAMS
BOURBON BALLS PEANUT BUTTER BALLS MAPLE CREAMS
PEPPERMINT PATTIES CARAMEL DRUMSTICKS TURTLES