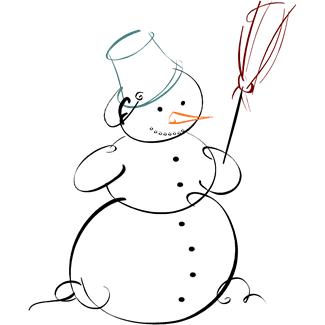 The chill of winter....the fun of snow and hot chocolate! It's a time of family fun and making memories! A snowman would be nice too but here in Kentucky, it's very unusual to get a *lot* of snow in a day's time. Usually, a good freeze accompanied with some frost thrown in is enough to close the schools for the day! Here we are, still snuggled in front of our stove and waiting for snow......
Best wishes, richness and prosperity to all our friends, our families and our customers! Thank you in so many ways! You alone made 2012 such a HUGE blessing! With the onset of New Year's resolutions and the diets of customers, we are relaxing and not baking except for the monthly Farmer's Market this Saturday, 01/12/13. We talked about a trip south and it still might happen....we do have a vehicle in the shop and am not sure of the outcome....could be the transmission (BIG $$$) or it could be an easy fix. Only the mechanic knows for sure....so we shall see if that trip happens...
We are working in the asparagus, mowing and prepping for another bumper crop. Trying a couple new things for week control. We have been getting some generousness from the local utility company! FREE MULCH AND WOOD CHIPS! Saves a chunk of money when they just unload them here. We don't have to pay for the dumptruck or the chips! Win - win! We are driving and relaxing. Working on the house inside and keeping the wood stove stoked.
Life is good and God is great! We feel blessed and happy. The Glasgow Daily Times just ran a great story on our operation here and we look forward to the month of February! We will be dipping strawberries and making up some special things for Valentine's Day! Call us and see what is on the list for our bakery that week! Need something for that special person?
Call us - we can ship it!
A LITTLE HISTORY....
John and I moved onto our property just about 10 years ago and we've gotten alot accomplished in that time. We planted a bunch of blueberry bushes and hundreds of asparagus seeds and crowns! Now, we're still putting blueberry bushes in the ground and taking cuttings and raising more!! You certainly are what you eat and our goal is to become as sustainable as we could possibly be. We raise beef, turkey & chicken and we love to share our knowledge! We hope that people could learn from our mistakes and we are interested in teaching you what we know!
Self sustainability is our goal and we work towards that every day we're here. It's rewarding and enlightening and fulfilling and the path we've chosen. However, we always have time to set a spell and would welcome a visit! As you travel up or down Hwy 68 in Metcalfe County, Kentucky - feel free to stop in! We have farm fresh eggs, homemade bread in the freezer and will be happy to rustle up a pot of coffee and visit a bit!
Come visit us at Tubbs' Farmstead & Bakery! Coffee's on!