Fresh Asparagus by the Pound……..
Several months ago, we applied for a county-wide 50/50 grant for crop diversity. We thought it would be to expand the blueberries – which we will still do, but we had some divine intervention, you might say….
We thought over planting more asparagus since we had such huge success with it at the Farmer's Market in Glasgow, Kentucky. Week after week, as soon as we would unload our wares, the asparagus would be sold out! We would be amazed – every week, it would be gone as soon as we parked our truck…sometimes sooner!
Well, we had lots of land to develop and with the help from our 50/50 grant; we ordered 10,000 asparagus crowns, in addition to the 2,00 we had to begin with. After we ordered, we had to wait a while. We ordered it in November and it didn't get shipped until the following spring – just in time to put it in the ground. They told us to prepare a large acre for these crowns we were getting….? That took up 6 of the 18 of the boxes they sent – we still had 12 boxes left! Well, we filled that large acre and another 2 acres with these gorgeous, beautiful asparagus crowns. We figured they must ship by weight because they almost double shipped what we thought we were getting……
And luckily, we had enough land to expand to – it just took some space that was intended for our other favorite crop – BLUEBERRIES!
With asparagus, the first year you plant – all you can do is weed and cultivate! We fertilized and weeded and our mouths watered! John figures that if we can sell it, we can't eat it! Last year, we got maybe 2 meals off of the 2,000 asparagus crowns we had in the ground…. This year coming up, 2011, we should be picking about 1/3 of the entire crop. We figure it should be about 50 pounds a day. Imagine the walking, bending over and snapping that spear off at the ground level! It grows as fast as you imagine – we will have to walk the fields 3 times daily to insure we don't miss anything! The following year, 2012, we will be able to pick all that our 3 – 4 acres provides – could be 150 pounds daily. Maybe then I can eat my fill of asparagus!
By then, let's hope we have commercial customers and restaurants lined up! Since the beginning, we have always had an asparagus list and we have never gotten to the bottom of the list – if you'd like to order some, email us and put asparagus in the subject line! We will put you on the list and call you when your order is ready! You can pick it up here from the farm or at the Farmer's Market in Glasgow, Kentucky!
Exciting, isn't it?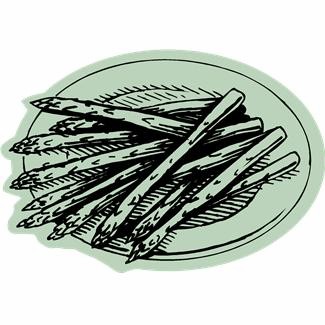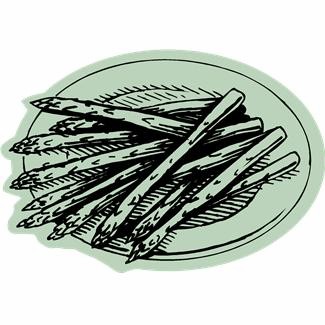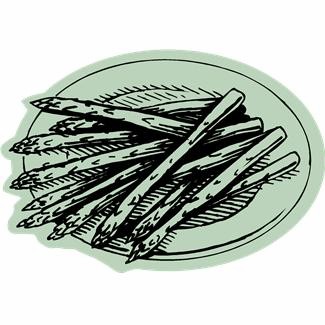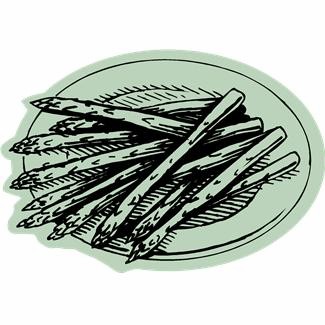 Nutrient Values:
% of USRDA

---

Serving size
5.3 ounces
Protein
6%
Calories
20
Vitamin A
8%
Protein
3 grams
Vitamin C
20%
Carbohydrate
3 grams
Thiamin
15%
Fat
0 grams
Riboflavin
6%
Cholesterol
0 milligrams
Niacin
6%
Sodium
5 milligrams
Calcium
2%
Potassium
400 milligrams
Iron
*
Dietary Fiber
3 grams
Vitamin E
*
Vitamin B6
10%
Folacin
60%
Magnesium
4%
Copper
4%
Pantothenic Acid
*